Family Health Care appoints Dr. Daniel Bow as Chief Medical Officer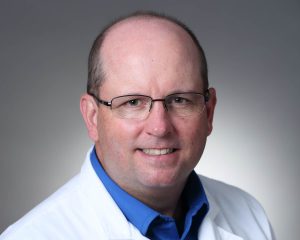 Family Health Care is pleased to announce Daniel Bow, DO, DPM, as Chief Medical Officer (CMO). He replaces Jocelyn Pouliot, MD, who recently retired after serving the past nine years as CMO.
In his new role, Dr. Bow is responsible for providing overall medical leadership, ensuring patient care is of the highest quality, directing overall recruitment efforts of medical providers, and working on a strategic plan that meets the health needs of the communities served.
"We are excited to welcome Dr. Bow to our leadership team," said Julie Tatko, president and CEO of Family Health Care. "Dr. Bow understands the importance of being a patient-centered medical home and providing high-quality, integrated health care services to residents of Lake, Mecosta, Missaukee, Newaygo and Wexford counties. He brings great energy, insight and experience to our clinical operations."
Dr. Bow has worked as an internal medicine physician at Family Health Care since 2012.
"I have been striving to provide high-quality, empathic care for each of my patients," said Dr. Bow. "As Chief Medical Officer, I will use our foundational values such as integrity, teamwork, and excellence in service to others to improve the consistency and quality of care throughout the Family Health Care system."
Dr. Bow obtained his medical degree from Michigan State University and completed his residency at Botsford General Hospital in Farmington Hills, MI.
About Family Health Care:
Family Health Care (FHC), is a non-profit 501(c)(3) organization established in 1967, as one of the first community health centers in the U.S. to develop a "one-stop-multiple services" concept for health care services for all. FHC offers family medicine, pediatrics, internal medicine, comprehensive dental service, full service pharmacies, laboratory, x-ray, behavioral health care, health education and school-based programing. Centers are located in Baldwin, Big Rapids, Cadillac, Grant, McBain and White Cloud. Our team is composed of diverse and passionate individuals who want to make a positive impact in the communities we serve. For more information, visit www.familyhealthcare.org.
Media Contact:
Alan Neushwander
Associate Director, External & Internal Relations
(231) 745-0433
aneushwander@familyhealthcare.org