Mission Hero Vicki Kuhns
For almost 50 years now, Family Health Care has been following a mission of service to others. Through this mission and with the collaboration of other FQHCs we hope to remove the barriers to health care while also removing each of the health disparities in the community. I am proud to recognize two new Mission Heroes within our organization. Mission Heroes are team members who have demonstrated outstanding motivation, drive, and dedication in helping Family Health Care meet its mission.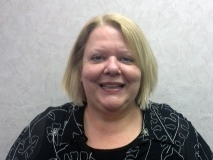 Vicki Kuhns
On July 22, 2015, Michigan Medicare/Medicaid Assistance Program (MMAP) held its annual Recognition and Training day in Lansing. At that event, Vicki Kuhns of our Family Health Care (FHC) White Cloud location was recognized for having conducted the most outreach education of all the team members in MMAP Region 8, a nine-county region that includes the counties of Kent, Allegan, Ionia, Montcalm, Newaygo, Mecosta, Osceola, Lake and Mason. Vicki was also honored to have been chosen by Regional Coordinator Bob Callery as MMAP Region 8 Team Member of the Year.
All three of Family Health Care's Outreach and Enrollment Specialists (Vicki Kuhns in White Cloud, Julie Burke in Baldwin/Cadillac/McBain, and Kyle Guajardo in Grant) have trained rigorously with the MMAP to learn the basics of how Medicare and Medicaid are designed to work. Both Julie and Vicki recently achieved the milestone of certification as MMAP Counselor, which involves an active commitment to ongoing training and study, as well as accumulating hours of service to Medicare beneficiaries under the tutelage of the MMAP Regional Coordinator.
FHC sponsors the ongoing efforts of these staff to educate, counsel and advocate on behalf of Medicare beneficiaries and their caregivers in our home communities. MMAP is the designated agency in Michigan funded by the U.S. Department of Health and Human Services Administration for Community Living to provide high quality and accessible health benefit information and counseling supported by a statewide network of unpaid and paid skilled professionals. The mission statement of MMAP is: "To educate, counsel and empower Michigan's older adults and individuals with disabilities, and those who serve them, so that they can make informed health benefit decisions."
Would you like to learn more about how Medicare benefits work? Do you have questions or concerns about Medicare or Medicare-related health insurance plans and programs, or about which Medicare options and plans to choose for yourself or a loved one? Then, perhaps you should make an appointment with one of Family Health Care's Outreach & Enrollment Specialists, each of whom can help you better understand how to navigate the options and challenges of Medicare.
As we move forward, I urge each of you to look at the work that you are doing and remind yourself of the service and dedication you provide the community. Lastly, I want to express my gratitude for each of you as you continue to play your role in helping Family Health Care reach its mission. Without you and your dedication to the community, Family Health Care would be missing a very important part of the work we do.
Sincerely,
Kathy Sather
CEO/President