2015 Baldwin Health Fair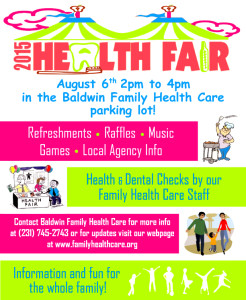 Family Health Care will once again be celebrating National Health Center Week by putting on their annual Community Health Fair. This years health fair will take place on Thursday, August 6th, 2015 from 2 PM until 4 PM at Baldwin Family Health Care (1615 Michigan Ave, Baldwin MI). The health fair will show case local and state agencies related to improving and promoting health and wellness for all members of the community. Fun, games, screenings and education for all will be at this years health fair.
Learn more about National Health Center Week
For more information or to participate as an agency at our health fair, please contact one of our co-chairs.
Terri Vanias & JaNel Williams
(231) 745-2743
tvanias@familyhealthcare.org or jwilliams@familyhealthcare.org
A special thank you to our sponsors! (more sponsors to be uploaded soon)
Molina Health Care, NextGen