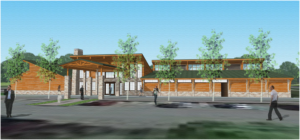 In 1967 Baldwin Family Health Care (BFHC) was established in Baldwin as the state's first community health center and the nation's third to provide primary care services.  Since that time, the organization has grown and expanded its services and its reach in serving the health care needs of residents in Newaygo, Lake, Wexford and Missaukee counties.
The eleven locations provide multiple services under one roof such as medical, dental, optical, behavioral health, pharmacy, lab, and radiology. Multiple services ensure those who seek care can make one stop for easy accessibility for all their health care needs. This delivery system of care improves health, saves lives and is cost-efficient.
The mission of the organization is to provide quality, integrated and comprehensive health care services that are accessible to all. The organization's long-standing commitment is to provide a strong health care delivery system in communities where services are needed. For many in Northern Michigan, there are no other or too few primary care services that have the same capacity to provide all of those services.
Family Health Care's vision is to expand and be known as the health care provider and employer of choice while providing access to all who seek care and in a way that eliminates health disparities, whether those are financial or social.
Our quality services and professional care are the same for everyone we treat. We welcome patients with commercial insurance, those who qualify for Medicare or Medicaid and are pledged to serve those patients who meet federal poverty guidelines with discounted fees.
Family Health Care has taken great care to design its services and delivery of them by ensuring qualified and professional staff have the credentials and experience in caring for everyone and anyone who seeks care at any of its sites.  FHC is a designated as a patient-centered health care home. The organization's quality is accredited through regular rigorous reviews to achieve certifications both through state and national regulating bodies.
The organization also holds one of the most long-standing functioning school-based child and adolescent health centers in Baldwin. Through the years, school-based health care has expanded to the White Cloud and Grant schools and supports a school nurse for Hesperia Community Schools (Newaygo County) and a behavioral health therapist in Pine River Schools (Lake County).
Community health outreach programs include in-home respite, teen parents support group, grandparent's program, parents as teachers, reach out and read (Med-read), Medical Reserve Corps, Alzheimer's Support Group, friendly visitors, immunizations, well-child care, behavioral health and home care that provide special support services in high need areas.
Thirty providers between the sites consist of family practice, internal medicine, physician assistants, nurse practitioners, dentists, dental hygienists, dental assistants, pharmacists, optometrists, and other professionals who work together to ensure all factors that can affect optimum health care are considered in every patient's evaluation and treatment.
Expansion has not been limited to services.  The Baldwin location is undergoing a multi-million dollar makeover of its facility that includes a roomy lobby, larger pharmacy space and a better flow for patients to move from one service to another. This is the benchmark BFHC is establishing for a "one stop shopping" concept for health care services.  The Baldwin site is planning to expand hours of service in the summer of 2017 to serve those who work and vacation in the area.  Hours will allow for walk-in availability for treatment.
Quite a development for just 50 years old.  Who knows what the next 50 will hold in store for the well-being of our communities?