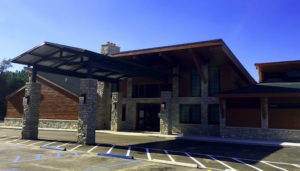 Baldwin Family Health Care (BFHC) is celebrating 50 Years of quality service in underserved areas of West Central Michigan. BFHC was the first Community Health Center in Michigan and the third in the nation, beginning in 1967 with an office in Baldwin, Michigan.
The center helped pioneer the "one stop shopping" for health care by providing medical, dental, behavioral health, pharmacy, radiology, lab and now vision services all under one roof.  BFHC has five sites: Baldwin, Cadillac, Grant, McBain and White Cloud; with physical sites in Baldwin, Grant and White Cloud schools.
The Baldwin facility recently completed a major renovation that added a much needed 1,900 square feet.
"The improvement to our Baldwin location allows us to better serve the surrounding communities with more exam rooms, a larger pharmacy and more dental rooms," said Kathy Sather, President & CEO of Family Health Care. "We are focused on providing the best possible care for those who live and visit our communities."
With the completion of renovations, the Baldwin facility has also begun to offer extended hours Monday through Friday until 8 p.m. and Saturdays from 9 a.m. to 1 p.m.
The community is invited to join BFHC in celebrating its jubilee anniversary with an open house of the newly remodeled facility in Baldwin, located at 1615 Michigan Avenue, on Friday, August 11 starting at 2 p.m. with a ceremony and guest speakers. Following the ceremony will be light refreshments and tours.