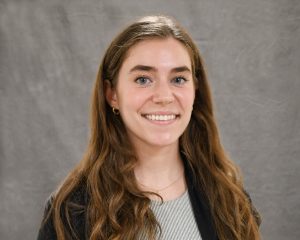 Lindsay Fisher, DDS, has joined Family Health Care as a general dentist at the Family Health Care clinic at 11 N. Maple Street in Grant.
Dr. Fisher received her Doctor of Dental Surgery degree from the University of Michigan and completed a clinical internship at Family Health Care's clinic in Cadillac. She provides comprehensive dental care for patients of all ages including preventative dental care, fillings, extractions, root canals, crowns and bridges, and full and partial dentures.
"I became a dentist because of my passion for service," Dr. Fisher said. "Working in a rural health clinic allows me to provide care to underserved patients who may otherwise not have access to high-quality dental services."
Dr. Fisher is originally from Southeast Michigan. When not at work she enjoys cooking, painting, and outdoor activities such as walking, running, and hiking.
"We are excited to have Dr. Fisher join our team of dentists in Grant," said Janet Fronheiser, DMD, interim chief dental officer at Family Health Care. "She is mission-driven with a goal to restore healthy smiles for each patient."
For more information or to schedule an appointment, call (231) 834-9750.