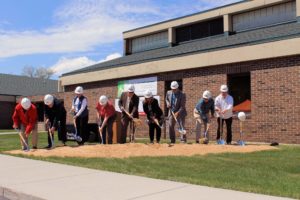 BALDWIN, Michigan – Family Health Care (FHC) broke ground on its 1900 sq. ft. expansion and renovation of its Baldwin site on Monday, May 16, at 2:30pm. FHC was awarded federal funding through the Health Resources and Services Administration (HRSA), an agency of the U.S. Department of Health and Human Services. HRSA's goal is – like Family Health Care's – to improve access to health care by strengthening the health care workforce, building health communities and achieving health equity. This award, along with FHC funding that has been set aside, will assist in the expansion and availability of primary care health services within the Baldwin community along with much needed improvements to the health center.
The renovations will provide 1900 additional square feet of space to better accommodate patient flow and expand its pharmacy area. Construction is planned to begin in the next few weeks and continue through early 2017. Kathy Sather, CEO of Family Health Care, states "These improvements to our Baldwin location and will allow us to better serve with more exam rooms, as well as additional space for pharmacy. Once the improvements are made, we will be providing more access during Saturday hours; something we have been trying to accomplish for some time now. We are focused on serving all who visit the community in making sure their urgent needs are met – in addition to those who live here year round."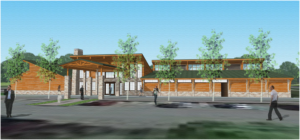 Health Centers like Family Health Care are a key strategic tool in assuring that underserved areas and populations have access to health care. Today more than 600,000 Michigan residents rely on a Health Center as their health care home—including individuals across all income levels, insured or not. If it weren't for Health Centers like Family Health Care, many of these individuals would remain isolated from health care due to lack of insurance, inability to pay for services, and transportation, language, and cultural barriers. Health Centers overcome these barriers by providing coordinated, comprehensive, community-based health care to anyone who walks through their doors.
Sather states "FHC hopes to be the health provider of choice and provide the community with essential services from pharmacy to primary medical, dental, and behavioral health services."
Stay up to date with renovation pictures by following the Baldwin Facebook page at www.facebook.com/familyhealthcareorg or by searching Family Health Care – Baldwin.