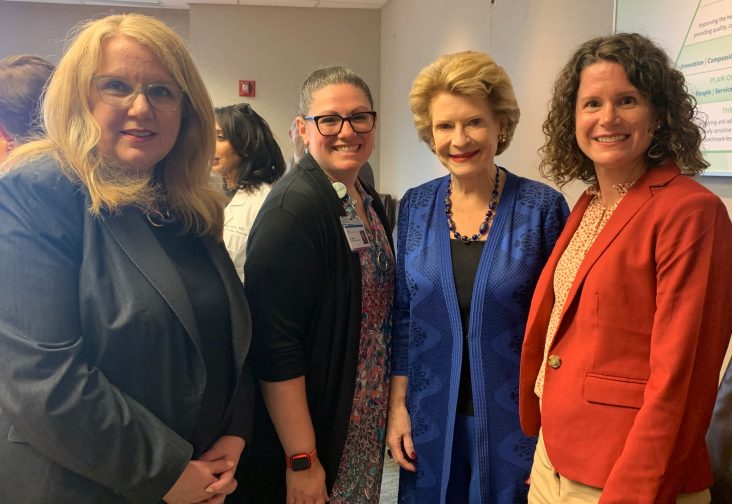 Family Health Care Receives Federal Grant to Expand Behavioral Health Services in Osceola County
Family Health Care has been awarded $350,000 in federal funding by the U.S. Department of Health and Human Services, through the Health Resources and Services Administration (HRSA). The money will be used to expand access to mental health care for students in the Evart School District.
Family Health Care will partner with Evart Schools to open a school-based Child and Adolescent Health Center to provide students with primary medical care and behavioral health care.
The funding was announced on September 25 by U.S. Senator Debbie Stabenow and HRSA Administrator Carole Johnson during an event in Lansing.
"Young people need easy, readily accessible ways to get the mental health support they need when they need it," said Johnson. "That's why the Health Resources and Services Administration is investing in increasing mental health care and support in schools and in helping pediatricians meet the mental health needs of their young patients."
The most recent Youth Risk Behavior Survey found that nearly 3-in-5 U.S. teen girls felt persistently sad or hopeless in 2021 — representing a nearly 60 percent increase over the past decade. It also found that 22 percent of high school students seriously considered attempting suicide during the past year.
"This grant will open up access to medical and behavioral health care for our students," said Jason O'Dell, principal of Evart Middle School. "Evart is located in a very deprived area of Michigan that doesn't have the health care resources that larger areas have. We're happy to be able to bring medical care to the school, but having this funding to allow for a full-time mental health clinician in our school is even more important as we continue to see a rise in mental health conditions such as suicidal ideation, depression, ADHD, and severe anxiety."
O'Dell said the need for action on youth mental health is clear and is happy action is being taken to address these critical needs.
"Osceola County has a very high rate of trauma and neglect. Before COVID, we were looking at ways to meet the mental health needs of our students, and that need has become ever greater post-pandemic."
Julie Tatko, CEO of Family Health Care, echoed O'Dell's sentiments that the federal funding to open the school-based health center will allow them to serve Osceola County in ways that were not possible before.
"This will make it easier for families to access behavioral health services," said Tatko. "Every child deserves access to behavioral health care when and where they need it. This is a step in the right direction."
It's estimated that half a million children in Michigan have a mental health condition, many of whom are undiagnosed. Statistics suggest nearly half of those children go untreated due to various factors, including lack of access to behavioral health services.
Family Health Care operates school-based health clinics in Baldwin, White Cloud, and Grant. The new school-based clinic in Evart is targeted to open in 2024.
Media Contact:
Alan Neushwander
Director, External & Internal Relations
(231) 745-0433
aneushwander@familyhealthcare.org