Know the Risks of Over the Counter Medications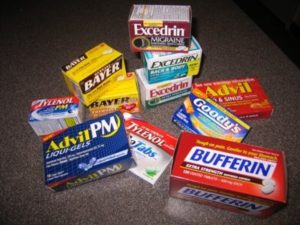 BALDWIN, Michigan –  Every day millions of people use over-the-counter (OTC) medications for relief from such things as headaches, coughs, colds and many other health concerns. Even though these products are widely available and easy to use, it's important to note that these medications do have risks if used incorrectly.
Family Health Care's pharmacists are medication experts with years of experience and advanced training regarding the interactions of OTC medications with prescription medications and how they can work together to improve your health. They can help you learn how to take your medications properly and the possible dangers of the medicines you take.
Many health care products – OTC, prescriptions and herbal supplements – should not be used together because they may contain the same ingredients.  FHC pharmacists are well trained to guide you to the correct combination for your best health. They will make sure the doses are correct and that children receive medications meant for children and not just a lower dose of an adult OTC medication.
Your pharmacist and pharmacy staff are important members of your health care team.
FHC pharmacies are open to both Family Health Care patients and the community. Most insurances are accepted, including Medicare and Medicaid, and insurance specialists are available to assist with those who qualify for special financing programs.
Family Health Care pharmacies are open to the public. In Cadillac the pharmacy is at 520 Cobb Street. In Newaygo County: 1035 Wilcox Avenue, White Cloud; 11 N. Maple, Grant. And in Lake County the FHC pharmacy is at 1615 Michigan Avenue, Baldwin.
# # #
About Family Health Care:
Family Health Care (FHC), is non-profit 501(c)(3) organization established in 1967, as one of the first community health centers in the U.S. to develop a "one-stop-multiple services" concept for health care services for all. FHC offers family medicine, pediatric and, internal medicine, Comprehensive dental service, full service Pharmacies, laboratory, x-ray, behavioral health care, therapy services, health education, and school-based programing.  Centers are located in Baldwin, Cadillac, Grant, McBain and White Cloud. Our team is composed of diverse and passionate individuals who want to make a positive impact in the communities we serve. For more information, visit www.familyhealthcare.org.