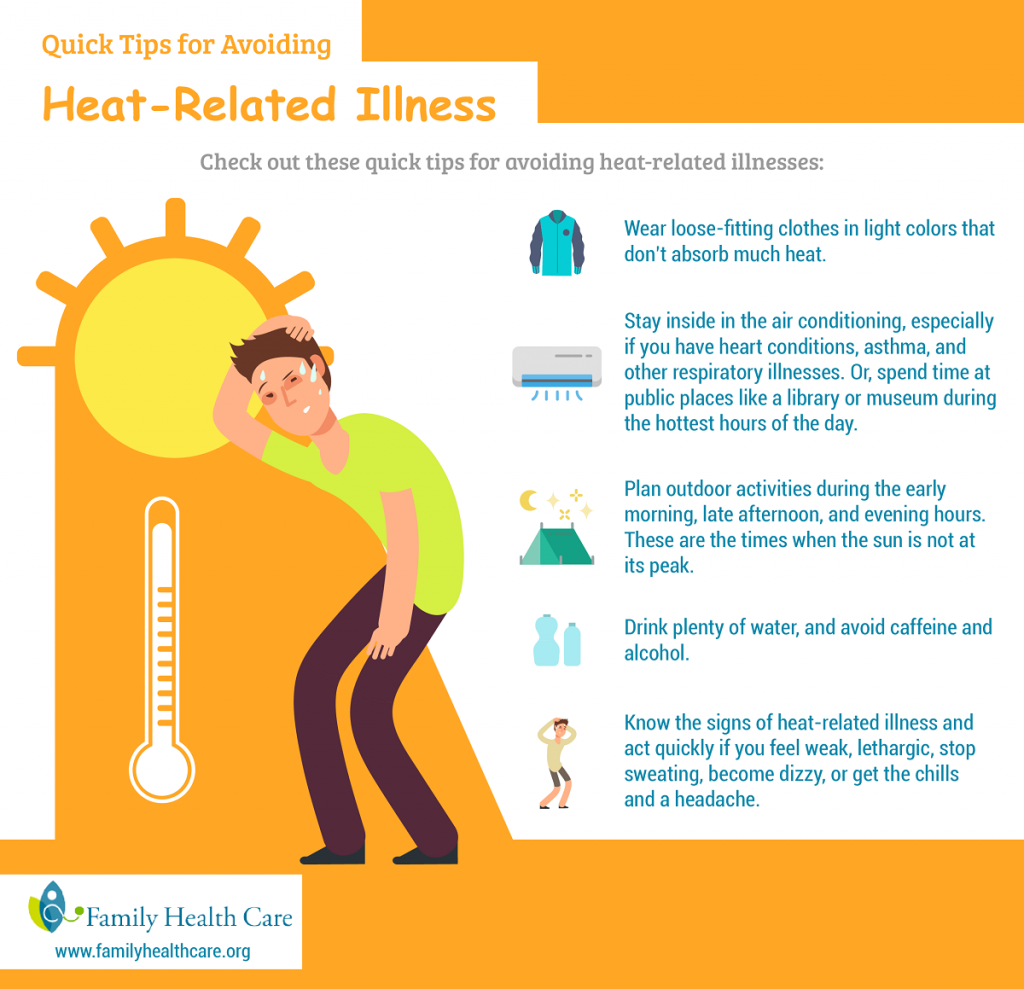 Heat-related illnesses affect people of all ages and can come on suddenly. That's why at Family Health Care, we want everyone to know how to take care of their bodies when temperatures climb. The more you know about staying cool in the heat, the more protected you'll be from heat stroke and heat exhaustion.
Check out these quick tips for preventing heat-related illness:
Wear loose-fitting clothes in light colors that don't absorb much heat.
Stay inside in the air conditioning, especially if you have heart conditions, asthma, and other respiratory illnesses. If your home doesn't have air conditioning, don't rely on electric fans. Instead, spend time at public places like a library or museum during the hottest hours of the day.
Plan outdoor activities during the early morning, late afternoon, and evening hours. These are the times when the sun is not at its peak.
Drink plenty of water, and avoid caffeine and alcohol.
Know the signs of heat-related illness and act quickly if you feel weak, lethargic, stop sweating, become dizzy, or get the chills and a headache.
At Family Heath Care, our team of medical professionals treat all heat-related illnesses including heat stroke, heat exhaustion, heat cramps, heat rash, and even sunburns. If you exhibit signs of heat stroke or heat exhaustion, it's important to get to a healthcare facility right away.
Family Health Care is a community healthcare center with locations in Cadillac, Baldwin, Grant, McBain, and White Cloud, MI. We treat patients of all ages for all conditions. Our health care services include X-rays, sports physicals, dental and vision services, immunizations, health screenings, and a full pharmacy. We're open 365 days a year from 7:30 a.m. – 4:30 p.m. To learn more about Family Health Care, visit our website at https://www.familyhealthcare.org.