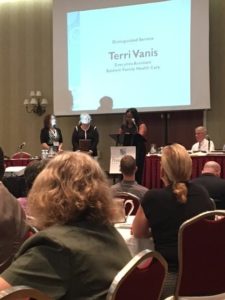 On Tuesday, July 25, during the annual Michigan Primary Care Association (MPCA) conference, Terri Vanias, Executive Assistant & Facilities Manager at Family Health Care (FHC), was the recipient of the 2017 MPCA Distinguished Service Award. Terri was nominated by her peers for her significant contributions to the success of Family Health Care during the past year and throughout her career.
"It's always nice to be recognized, but what an honor at a state association conference," said Terri. "A lot of what I do is 'behind the scenes', so I appreciate the acknowledgement of my work."
Terri has been working at Family Health Care since 2003, and in that time has ensured the many administrative duties that cross her desk are all handled with professionalism and efficiency. She a former President and the current secretary of Baldwin Rotary, and has made great strides with writing and being awarded a grant that has provided funds to raise awareness of Rotary in Lake County.
"I've held a variety of titles over of the years, but no matter my title, I find pleasure in my work knowing it helps our patients and communities," stated Terri, "We have such great staff who genuinely care for our patients and since my family and I are also patients, I witness their compassion first hand."
Terri has been invaluable coordinating the activities of FHC's Baldwin construction project, which added 1,900 square feet to the building. She also oversees the maintenance and housekeeping throughout all nine locations.
"Terri's heart is here at Family Health Care," said Kathy Sather, President and CEO of Family Health Care. "She is a giving individual, always caring about those details that make a big difference in demonstrating to others the quality of being part of the team."
Through the organization's many changes in its 50 years in service, Terri can tell you most of what you need to know and where you can find it. She is an indispensable and unique person who you can always trust to be there when you need her.
Please help Family Health Care in congratulating Terri on her 2017 Distinguished Service Award.
ADDITIONAL FROM TERRI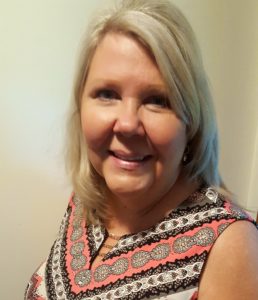 "I was tickled to first share the news with my son and husband. Later I was encouraged to put it on Facebook and received many nice comments from my friends.
I do my best to treat everyone fairly, with respect and to listen, just the way I like to be treated. Our patients are the reason we're all here and we have to remember that, without them, we wouldn't be here, so that's always on my mind.
We have to keep our facilities looking great by being clean, tidy and safe.  We have to have processes in place and stick to them so our patients get the care they need and deserve. Our staff also have to have the resources they need to take care of the patients and, of course, our staff need to feel respected and secure.     
Family Health Care does good work for our communities and we're here to help people.  We'll help people no matter where they are in life. We have such great staff who genuinely care for our patients and since me and my family are also patients here, that matters a great deal to me!"